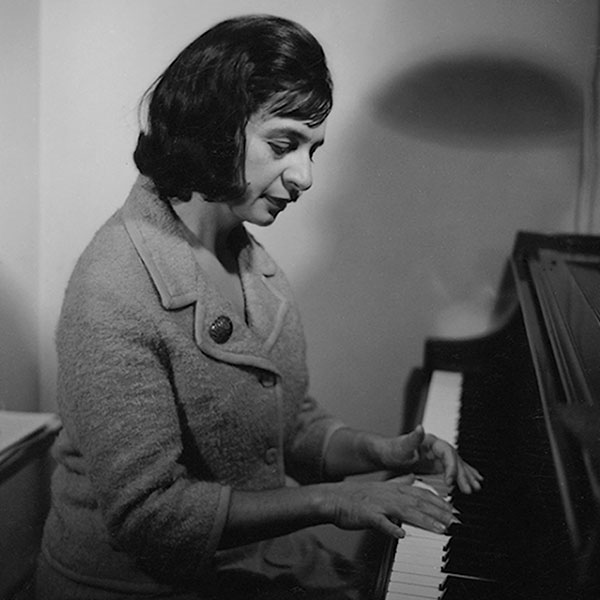 Ursula Mamlok was born in Berlin in 1923, and began her musical training very early. She attended primary school in Berlin's Pestalozzistrasse, and then went on to the Fürstin-Bismarck-Lyzeum (today the Sophie-Charlotte-Oberschule). Her Jewish ancestry meant that she faced persecution under the Nazis, and she and her family fled Berlin before emigrating to live with relatives in Ecuador in 1939.
Just a year later, at the age of seventeen, she left Ecuador without her parents to take up a scholarship at the Mannes School of Music in New York. She was able to spend her first months there living in the Bronx with another émigré, a business friend of her father's. An anonymous patron of the Mannes School enabled her to survive financially. It wasn't until a year later that her parents were able to join her in the United States.
In the summer of 1944, she spent a few months at the famous Black Mountain College, known for its close ties with the Bauhaus and for its many renowned lecturers, among them Walter Gropius, Albert Einstein and Ernst Krenek, whose masterclasses she attended and through whom she first encountered the musical theories of Arnold Schönberg. In 1947 she married Dwight (Dieter) Mamlok, a native of Hamburg who had fled with a the Kindertransport, a rescue mission to save German Jewish children. He  pursued a writing career alongside a day job as a businessman, although his work has remained unpublished.
In the following years, Mamlok studied composition under Roger Sessions, Jerzy Fitelberg, Stefan Wolpe, and finally under the latter's pupil Ralph Shapey, who had a lasting influence on her artistic development and the radical change in her compositional style. At the age of thirty-two, she began another degree at the Manhattan School of Music, in order to gain a Bachelor's and Master's in Music. In the circumstances of the time, this was not an obvious decision to make. The qualifications she gained eventually enabled her to win an academic lectureship. She taught theory and composition at New York University, Columbia University, Temple University and, for over forty years (until 2003), at the Manhattan School of Music.
By the early nineteen sixties, Ursula and Dwight were thinking about returning to Europe. However, a return to Germany was never considered, and in the end they both decided to remain in New York, partly because their careers appeared to be going well there. Ursula first had her work performed at New York's famous Town Hall in 1947, gaining a mention in the New York Times. But it wasn't until the nineteen sixties that her music began to be continuously performed in the United States. It was at this time that she definitively worked out her own compositional style, and she has remained committed to it to this day, irrespective of any success it may or many not have brought her. Over the years, many renowned American musicians have performed Mamlok's work, including Lucy Shelton, Charles Neidich, or the Continuum Ensemble of New York, to name just a few. However, a milestone in her oeuvre is undoubtedly Constellations, an orchestral work that began as a commission from the San Francisco Symphony, and which was first performed in 1994 under the direction of Herbert Blomstedt.
In 2006, following the death of her husband, Mamlok returned to Berlin, taking with her the Baldwin grand piano she had bought in New York. This was a brave decision for the eighty-three year old artist, and at the same time marked the beginning of a new career. Thanks to the efforts of the musicologist Bettina Brand, well-known ensembles such as the Klenke Quartett, musikFabrik and the Ensemble SurPlus, and established musicians such as Kolja Lessing, Holger Groschopp and Jakob Spahn were able to develop an enthusiasm for her music, with the result that she also soon became an important figure in contemporary music circles in Germany. Since then, she has travelled to almost every performance of her music, gives talks about her life at schools and public events, and continues to compose for musicians on both sides of the ocean. Her meeting with the Swiss oboist and composer Heinz Holliger initiated an important artistic exchange that has lasted to this day.
In 2013, for her 90th birthday her works were performed at the Philharmonie, Berlin's main concert hall, and in November of the same year she received the Order of Merit of the Federal Republic of Germany First Class. In 2012, Böhlau-Verlag published her biography, Time in Flux – Die Komponistin Ursula Mamlok by Habakuk Traber. To date, her work has been released in four CDs by the New York label Bridge Records. Her compositions are published in sheet music form by Edition Peters and by Boosey & Hawkes / Bote & Bock.